PUBLICITY FOR NON-FICTION AUTHORS, INCLUDING RADIO TOURS AND MEDIA TRAINING. ONGOING PUBLICITY CAMPAIGN. SPECIAL INTEREST AREAS: POLITICS, HISTORY, LEGAL, BUSINESS, MILITARY, FOREIGN AFFAIRS, SCIENCE AND ANIMALS, FOOD, PHOTOGRAPHY, PARENTING.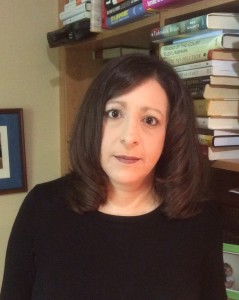 Johanna Ramos-Boyer has worked in communications and publicity for more than 25 years, starting in the Clinton White House in 1993, then transitioning to the communications departments for Secretary Ron Brown at the U.S. Department of Commerce and Secretary Dan Glickman at the U.S. Department of Agriculture.
In 1999, as a Senate Press Secretary for Barbara Mikulski, Johanna spearheaded the publicity efforts for the first book by the then nine women of the United States Senate, Nine and Counting: The Women of the U.S. Senate.  This launched Johanna into the publishing industry and she has not looked back.
Johanna has extensive experience in developing publicity efforts and media strategy for authors and publishing clients.  A seasoned professional, she has knowledge of non-fiction and fiction publishing, government affairs, documentary and feature television production and programming, non-profit organizations and how these elements fit together for cross platform multi-media efforts that combine publishing with larger projects that reach millions.
In 2003, Johanna launched JRB Communications, LLC where she works across a variety of industries and clients including the National Geographic Channel, AXS TV, getTV, Goldcrest Films, W.W. Norton, Simon & Schuster, Hachette, Yale University Press, Penguin Putnam, Crown, Knopf, and the Lyndon Baines Johnson Presidential Library.  No project is ever the same.
Johanna represented filmmaker Tim Hetherington.  Hetherington's 2010 film, Restrepo (produced and directed with Sebastian Junger) won the Grand Jury Prize at the 2010 Sundance Film Festival, was nominated for a 2010 Academy Award for Best Documentary and was broadcast on the National Geographic Channel.  Other documentary clients include Gold Star Children, a documentary film by Mitty Griffis Mirrer and Academy Award nominated writer Mark Monroe about children who have lost a parent to war — Vietnam to Afghanistan & Iraq; and Defiant Requiem: Voices of Resistance (PBS – Peter Schnall, Director; April 2013).
Johanna has worked with notable authors including Ebola expert David Quammen, former CIA Chief Michael Morell, Pulitzer Prize-winning writer Lucinda Franks, Mitchell Zuckoff and the Benghazi Annex Security Team, Pulitzer Prize-winning photographer David Hume Kennerly, Washington Post Columnist David Ignatius, New York Times bestselling author Craig Nelson, award-winning business writers Po Bronson And Ashley Merryman, Judith Martin (Miss Manners), First Amendment Attorney Floyd Abrams, Pulitzer Prize-winning journalist Glenn Frankel Technology reporter Adam Lashinsky, New York Times bestselling author Sebastian Junger, fallen reporter Tim Hetherington,  Robert L. Forbes, Charles Ogletree, General Tony Zinni, John W. Dean and Barry M. Goldwater, Jr., Humorist Mary Roach, Primatologist Frans de Waal, General Wesley K. Clark, Patricia Gucci, Dog Whisperer Cesar Millan, Economist Charles Wheelan, and New York Times bestselling author Vincent Bugliosi.
Services include:
Strategic Media Relations for Book Launches (including TV, radio, print and online outreach)
Developing and overseeing events
Satellite Radio Tours
Executive and Spokesperson Media Training
Contact:
Phone: 703-646-5137