PLEASE CONTACT BRIDGET MARMION TO ARRANGE A WEBINAR ON THE TOPICS MOST IMPORTANT TO YOU AND YOUR CLIENT.

Thursday, September 15, 6:00 – 7:00 pm ET
A Zoom Virtual Event sponsored by the Women's Media Group

Free for WMG members, $15 for non-members
Publishing insiders will discuss what agents and publishers mean when they ask writers "What is your author platform?" Discussion will revolve around what exactly is an author platform. What matters to agents and to publishers?  Are all author platforms the same?  What are the components of a platform? When and how should writers start building their platform? This is the perfect opportunity to learn the many ways writers can create robust communities waiting for their books; when they should begin building their platforms. Not only authors, but literary agents, editors, and marketing experts will find this a useful and informative discussion. 
Moderator:
Bridget Marmion spent over a decade each at FSG, Random House, and Houghton Mifflin, working in editorial, publicity, sales, advertising, and marketing during her career, for both adult and children's books.  She launched her own marketing firm, www.yourexpertnation.com in 2012, which relaunched last year as www.bridgetmarmionbookmarketing.com.
Panelists:
Regina Brooks is the founder and CEO of Serendipity Literary,  the largest African American literary agency in the US and home to many award-winning authors and illustrators. She's the author of Writing Great Books for Young Adults and You Should Really Write a Book,  How to Write Well and Market Your Memoir.
Jane Friedman has spent nearly 25 years working in the book publishing industry, with a focus on author education and trend reporting. She is the editor of The Hot Sheet, the essential publishing industry newsletter for authors, which was named 2020 Media Outlet of the Year by Digital Book World. Her latest book is The Business of Being a Writer (University of Chicago Press), which received a starred review from Library Journal.
Patsy Jones currently serves as VP of Marketing at Hachette Book Group in Franklin, TN, following years at Books A Million and Anderson Merchandisers. She is seasoned both as a marketing professional at the highest levels as well as a veteran in the retail space and has a deep, lived understanding of the connection between content and audience and between products and retail.
PREVIOUS EVENTS:
Thursday, May 13, 2021
AGENTS, EDITORS, THE PITCH LETTER
A Panel Discussion sponsored by The Women's National Book Association
Bridget Marmion, founder and president of Bridget Marmion Book Marketing, created and moderated this panel discussion for those who have a book idea or manuscript to pitch and wanted to learn what pitches work – and which ones don't – from two agents and two book editors.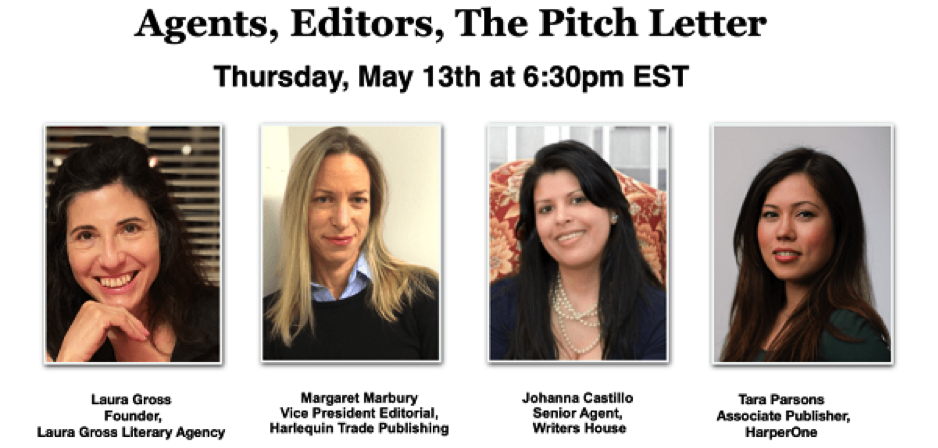 THE PANELISTS
Laura Gross, Founder, Laura Gross Literary Agency
Margaret Marbury, Vice President Editorial, Harlequin Trade Publishing
Johanna Castillo, Senior Agent, Writers House
Tara Parsons, Associate Publisher, HarperOne
---
Wednesday, June 15, 2016
THE YA TODAY: An Editor, Agent, and Blogger Discuss the Book, the Audience, the Crossover
A Presentation by Emilia Rhodes, Peter Knapp, Katiebabs, and Bridget Marmion
The video of The YA Today: An Editor, Agent, and Blogger Discuss the Book, the Audience, the Crossover is now available. Click for more details and purchase info.
Wednesday, March 2, 2016
CAN I WRITE THAT WHILE THEY'RE STILL ALIVE?
A Presentation by Bridget Marmion, Boris Kachka, Elinor Lipman, and Jan F. Constantine
All ninety minutes of this information-packed Confab is now available on video. Click hereto find out more and purchase!
Sunday, September 17, 2017
HOW TO REACH YOUR READERS: What You Need to Know from the Publicity, Social Media, Audio, and Marketing Professionals of BRIDGET MARMION BOOK MARKETING  
A Bridget Marmion Book Marketing workshop at the Brooklyn Book Festival
Rich Kelley , Anne Kostick, Jennifer Maguire  and Bridget Marmion
Wednesday, November 11, 2015
FINDING AND BUILDING YOUR COMMUNITY OF READERS
A Presentation by Ron Hogan, Jennifer Maguire, Bridget Marmion and Rich Kelley
Wednesday, May 6, 2015
REACHING READING GROUPS TODAY: Effective Marketing and Publicity
A Presentation by Carol Fitzgerald, Jean Hanff Korelitz, Jill A. Tardiff, Jeanette Zwart, Rich Kelley, and Bridget Marmion
Wednesday, March 4, 2015
MARKETING AND PUBLICITY'S NEW ROLE IN DISCOVERABILITY: Metadata Made Easy
A Presentation by Anne Kostick, Maureen McMahon, Jeanette Zwart, Bridget Marmion and Rich Kelley
Wednesday, January 21, 2015
TIMELINE TO SUCCESS: When Should Authors Begin Preparing for Successful Publication—and How?
A Presentation by Michelle Blankenship, Rich Kelley, and Bridget Marmion
Wednesday, November 5, 2014
GETTING YOUR BOOKS INTO THE COMMON CORE MARKET: Whether fiction, picture books, non-fiction or graphic novels, K-12
A Presentation by Nancy Mahoney and Neil Nathan, moderated by Bridget Marmion
Wednesday, September 17, 2014
EVERY BOOK NEEDS A HOOK
A Presentation by Bridget Marmion, Michelle Blankenship, Eamon Dolan, and Lee Stern
Wednesday, June 11, 2014
CREATING AND TRACKING ONLINE ADS
A Presentation by Rich Kelley
Thursday, April 10, 2014
PUBLICITY AND PROMOTION:
A Conversation with Publicity, Marketing, and Social Media Experts
Victoria Meyer, Rich Kelley, and Bridget Marmion